Beautiful and historic, Pennsylvania attracts visitors from around the world to experience its famed sights, from the old bell towers of Philadelphia, to the sandy shores of Lake Erie, to the rolling hills of Amish country. These are just a few of the many AMAZING places in the Keystone state! 
1.) Gettysburg National Park
More than 50,000 soldiers died in the Battle of Gettysburg in 1863, the bloodiest battle ever fought on American soil. About 150 years later, the national park land is a memorial to the lives lost during those three fateful days of the American Civil War. The battlefield draws history buffs, patriots and curious tourists who come in droves to pay their respects and learn more about this landmark event in America's history.
2.) Independence Historical National Park
Independence Historical National Park is the home to both Independence Hall and the Liberty Bell. While the Bell was rung at several key moments of the American independence movement, today it is more famous for its symbolic message of universal liberty than its functional purpose.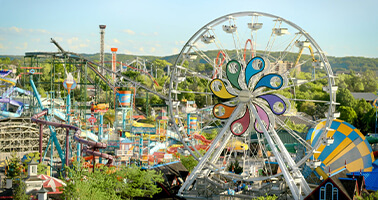 3.) Hershey Park
Families will enjoy an outing to this famous amusement park in Hershey, a town also closely associated with chocolate. Hershey Park is the town's main attraction with 90 acres of rides and entertainment for kids and adults, ranging from roller coasters to aquatic shows. The park was originally built in 1906 as a recreational area for Hershey's workers but expanded over the years to attract visitors from all over. Hershey Park continues to expand, offering a wide range of things to do for all ages. In addition to kiddie rides, the park has all the family favorites like a carousel, train, bumper cars, and Ferris wheel. There are also several water rides perfect for a hot summer's day and more than a dozen roller coasters designed to thrill. Other attractions include midway-style games and two large video arcades.
4.)  Presque Isle State Park
One of the top parks in Pennsylvania, Presque Isle State Park sits on a peninsula that curves out into Lake Erie, creating Presque Isle Bay, an important shipping and transport center. The park is open daily year-round and has plenty to offer, including eleven miles of beach and several hiking trails. As well as swimmers and sunbathers, many visitors come here to collect colorful "sea" glass that has washed ashore. Kite-flyers also love the open space and lake winds, and Sunset Point is a favorite spot. The park also hosts seasonal events and summer concerts that are free and open to the public.
5.)  Philadelphia Museum of Art
The Philadelphia Museum of Art houses one of America's largest collections of art and is also an iconic building in the city. The museum's front steps were featured in all of the "Rocky" movies, and from the top of these steps is a grand view down Benjamin Franklin Parkway to the landmark tower of City Hall. Inside, the museum's permanent collections include a wide range of art, including an extensive European collection featuring works by Rembrandt, Cézanne, Matisse, Monet, Picasso, Renoir, Chagall, and Manet. Other galleries include those dedicated to textiles and fashion, American colonial furniture, and an outdoor sculpture garden.
Hope you enjoyed our article! Do you think we missed anything? What are your rankings? Let us know in the comments or message through our facebook page. Also while you're here check out our clothing! Remember to like and share. Thanks!!